Australian Institute of Engineering is a Registered Training Organisation delivering Nationally Recognised Training. We have a commitment to helping people achieve their learning goals, in a fun and supportive learning environment.
WHO CAN UNDERTAKE THE TRAINING?
Participants seeking an entry level/production welding job
Participants seeking work in metal fabrication industry
Sculptors/artists
Participants who want a taste of welding before enrolling into Certificate courses
Landscape designers
Handy person
Hobbyist
WHAT CONTENT IS COVERED IN THE TRAINING?
GMAW (MIG) and MMAW (Stick): process, identification, technology, uses, advantages, and limitations
Safe operations
OH&S
Demonstration/Simulation of practical skills and completion of theory and practicalexercises
REQUIREMENTS
Recommended:
Participants should have a reasonable level of English language skill to meet the learning and WH&S requirements of this course.
Materials
Participants must wear:
Safety boots
Long pants
Welding jacket
WELDING TOOL KIT
AIE has taken measures to protect your health when you are participating in our welding short course. This means that an individual tool kit will be required for each participant. The tool kit can be purchased via AIE for $300.00 or you can provide your own. If you choose to provide your own, it will be subject to an inspection by the trainer. A list of items comes in kit are as below.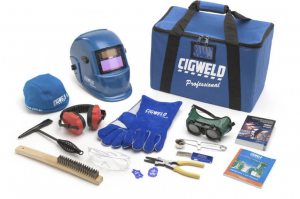 Kit Includes:
• Weldskill Welding Helmet Variable Shade 9/13 Blue • Welding Gloves
• Safety Spectacles
• Earmuffs
• Cigweld Pocket Guide
• Cigweld Gas Equipment User Manual
• Skull Cap
• Oxy Goggles
• Fillet Gauge
• Chipping Hammer
• Wire Brush
• Mig Brush
• Mig Plier
• Flint Lighter
• Tip Cleaners
WHAT IS THE COURSE DURATION?
6 Weeks
(12 Sessions of 3 hours each, 2 or 3 sessions/week)
HOW IS THE COURSE TRAINED AND ASSESSED?
This program is to be delivered in a classroom based environment with access to a fully equipped engineering workshop.
All theory and practical based delivery and assessment will occur within the designated classrooms and engineering workshop of the RTO through structured training sessions from a qualified Trainer / Assessor employed by the RTO.
HOW DO I ENROL?
PROSPECTIVE STUDENTS can contact our friendly staff at +61 421 116 693 with any questions about the course or how to apply as we have limited places for this short course.
HOW MUCH DOES THIS COURSE COST?
WOULD YOU LIKE MORE INFORMATION?
Contact our friendly team at Australian Institute of Engineering at:
Australian Institute of Engineering
Head Office (Melbourne Campus)
60 Belfast Street,
BROADMEADOWS, VIC 3047
Telephone: +61 3 9302 1296
Email: info@auie.edu.au